The 2nd high-level Manufacturing Business Summit and Exhibition themed "Harnessing the Manufacturing Potential for Sustainable Economic Growth" in the East African Community (EAC) scheduled as a three day event, started on this 23rd and will end on 25th May 2017 at Serena Hotel in Kigali, Rwanda. This high-level conference is co-organized with the East African Community (EAC) with very strong support from the Rwandan Government. The event is co-hosted by the East African Business Council (EABC) and the East African Manufacturing Associations i.e. the Rwanda Association of Manufacturers (RAM), Uganda Manufacturers Association (UMA), Confederation of Tanzania Industries (CTI), Burundi Manufacturers Association (AIB), and Kenya Manufacturers Association (KAM).
Over 300 top executives in the manufacturing and agri-business sectors, high-ranking policy and decision makers, as well as leading financial institutions from Africa and beyond are one of the participants, according to the EAC Secretariat.
The President of Rwanda, Paul Kagame was expected to grace the official opening ceremony of the Summit, but came the Prime minister Anasthase Murekezi representing him.
The AUSC Members have been invited to attend this summit. The AUSC President's Office selected 9 special Delegates who were accredited to attend for this first day of the summit and will keep participating in different sessions of this summit.
The 2nd East African Manufacturing Business Summit and Exhibition is offering exhibitions where investors, enterprises, researchers and academia can collectively showcase new products and services as well as latest innovations in manufacturing, particularly those with relevance to small and medium enterprises (SMEs).


The 2nd high-level Manufacturing Business Summit and Exhibition is the follow up of the 1st Manufacturing Business Summit and Exhibition which took place at the Speke Resort Hotel, Munyonyo in Kampala, Uganda in 2015.
The biannual East African Manufacturing and Business Summit is being organized against a backdrop of economic resurgence and high political commitment to pursue development driven by industrialization. The forum therefore stands to offer an important platform for governments in the region to engage the private sector on critical steps needed to leverage higher levels of investment in manufacturing.
The expected outcome is significant impact on broader socio economic development objectives such as employment creation, technology transfer and wealth creation. The forum seeks to create an avenue for the private sector to advocate and campaign for the acceleration of industrial reforms aimed at improvement of investment conditions in the EAC strategic sectors.
The EAC region has already identified strategic areas for industrial development in the region that bear comparative advantages and where significant private sector investment is needed to unlock potentials. These strategic sectors include: agro-processing and agri-business; mineral processing; pharmaceuticals; construction materials; fertilizers & agro-chemicals as well as the strengthened leather & textiles and automotive sector.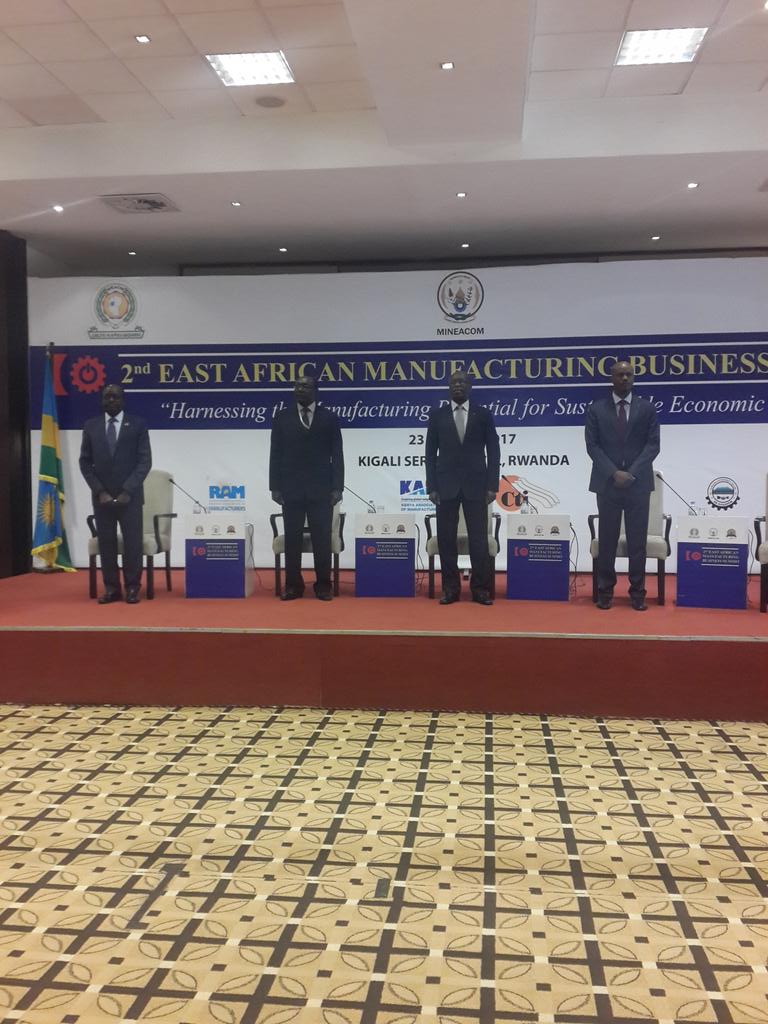 Keep following the activities of this summit online via AUSC Facebook, Twitter and Website.
You can use the hash tag #2EAMBS to follow this summit.
Written by RUTAYISIRE François Xavier
AUSC international communication officer